Chamber members have been vocal about the housing crisis gripping Toowoomba.
We have heard stories and solutions from a variety of industry sectors, about our Housing hopelessness. Their stories have definitively confirmed the current lack of housing and its impact on business. These include stories of increased homelessness for individuals and families, the lack of available supply, the lowest rental availability on record and challenges with affordability, decreased delivery of health services, and a lack of housing for workers coming to the region.
We know that the lack of housing:
is a deterrent to business attraction;
is a disincentive to attracting a workforce;
impacts on the ability of businesses to deliver their service;
effects on the image of a city; and
inhibits business growth and success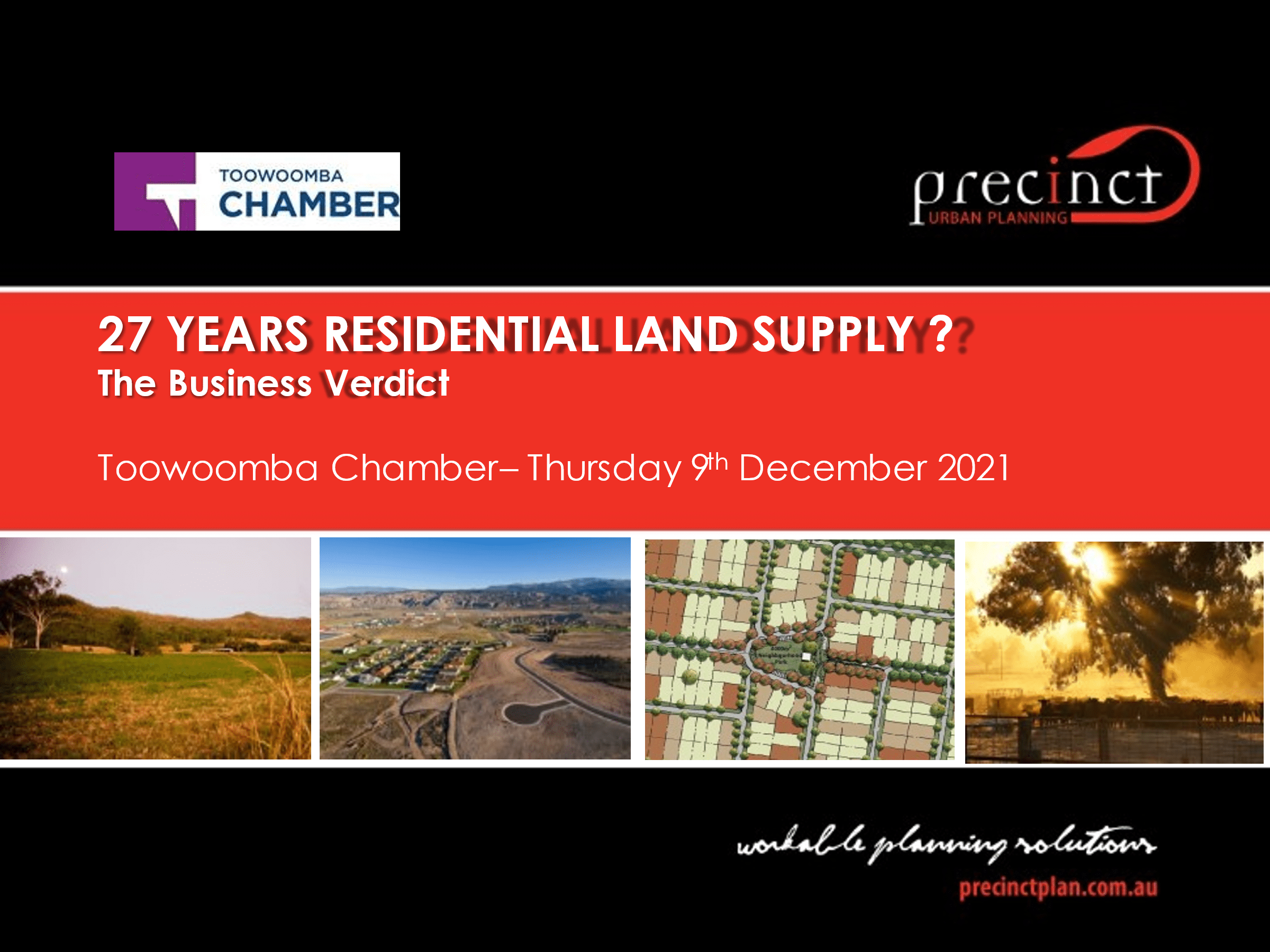 Housing Hopelessness
A healthy residential market relies on a rolling five (5) year supply of approved allotments available for sale spread over multiple growth fronts to ensure choice and competition is provided to the community. Toowoomba Regional Council and the Toowoomba Chamber agree that In Toowoomba's case this equates to somewhere between 4000-5000 allotments.

In August 2021, Toowoomba Regional Council advised that the city had 27 years' supply of land and 4300 approved lots. Council's recent research purportedly found only 2700 approved lots were available, but the industry and business groups demonstrated that approximately 1700 of those lots had either not been approved or were already consumed and a significant proportion of these are in distressed estates impacted by significant infrastructure constraints. This means the real figure is more like 1000.

In December 2021, the Toowoomba Chambers independent assessment by Mr Andrew Bullen of Precinct Urban Planning, one of Queensland's leading planning practitioners, confirmed that much of the supposed growth areas identified by Council were already developed or severely constrained by steep slopes, core koala habitat and flooding.
After three engagements with Toowoomba Regional Council and an audit of residential land by Council, Council has reinforced rather than dispelled our persistent claims of the presence and severity of the underlying residential land shortage. We can now confirm that a little over one-year supply of approved allotments remain, approximately 1000 lots.
"Our independent consultant assessment agrees with Toowoomba Regional Council's own independent planning consultant that a short-term residential land supply issue exists and needs addressing as a matter of urgency.
"We consider Council's inability to fulfill its responsibility, is directly impacting on the city's housing affordability, liveability, Toowoomba's brand, and stifling business opportunity.
"Despite the calls by our members for the Toowoomba Regional Council to both acknowledge and urgently address the problem, we continue to feel ignored, with agreements reneged on at every turn.

"What is alarming for business is that the critical land shortage driven largely by Council's inability to release land to the market will have significant economic and social implications for the city for years to come.
"Through the lack of action, the cost of land is being artificially increased, there is no rental housing available, there is no land to build houses on moving forward, nor accommodation for workers moving to the city to deliver major projects and now future economic prosperity for the community is at risk. "Our members are very concerned that this scenario will result in the city's edges being filled with workers camps or major projects requiring a FIFO workforce where money which could have been spent in local businesses, gets spent elsewhere.

"These dire circumstances the city finds itself in, have implications not only for homeowners, renters, and those looking to secure their first home but all Toowoomba residents. "Prices and valuations are increasing rapidly due in part to Council artificially constraining the supply of land.
"While we acknowledge other factors influence land supply, it needs to be understood that Council's actions are exacerbating what is now a critical shortage, which has led to increased valuations which we will expect will flow through very quickly to increases in every landowner's rates which benefits Council, the very architects of the current crisis", expressed Todd.

Advance Toowoomba representative, Denis Wagner, said, "The evidence reaffirms our view that we have a serious land supply and housing crisis in Toowoomba. We have never seen such a critical shortage of available land for housing in this city.

"This issue has been raised with senior bureaucrats and elected officials for over 3 years. The lack of urgency to address the crisis, or even an acknowledgement will see rental distress and homelessness increase in this region. The blocks that are being developed currently are generally sold off the plan before construction commences", he said.
Rob Weymouth, representative of the Toowoomba Division of the Urban Development Institute of Australia, echoed the concerns of the business community and Advance Toowoomba, stating "Everyone knows there is a housing crisis in Toowoomba.
"Everyone should know the industry has given Council a range of solutions to fix the issue.
"We now call on Toowoomba Regional Council to show leadership and act on the identified solutions, as once the solutions are enacted, the private sector will deliver houses for the people of Toowoomba", Rob said.

Toowoomba Chamber President Kate Venables, agreed, saying, "What we need is for Toowoomba Regional Council to acknowledge the crisis and their role in it.
"We need them to step up and support the Toowoomba community, who are suffering housing hardship, in part, due to the actions of Toowoomba Regional Council.
"Solutions to the crisis need to be implemented quickly, and the Toowoomba Chamber has identified some: such as expanding the priority infrastructure area, urgently introducing temporary planning instruments to bring forward housing opportunities, resolving appeals that are hindering housing development all of which are articulated in the report of the Toowoomba Chamber's independent consultant, Andrew Bullen of Precinct Urban Planning.

"It is bewildering that Toowoomba Regional Council has placed the community in such a dire housing crisis."
"The palpable frustration of our members at Council's inaction has meant that the Toowoomba Chamber, Advance Toowoomba and the Urban Development Institute of Australia will now collectively be taking up their concerns directly with the State Government in an effort to have the problem both recognised and addressed," said Kate.