The new President of the Toowoomba Chamber of Commerce President, Kate Venables took over official duties on Wednesday night after the completion of the Toowoomba Chamber Annual General Meeting.
A highly experienced Executive, Kate worked with and has led a range of business initiatives, managed staff, and volunteers from varying backgrounds, achieving successful outcomes across the Toowoomba and the broader region.
Kate has been the Executive Director of CatholicCare Social Services since 2016. A role based in Toowoomba, where Kate had to use her business acumen to turn around the business that was on the brink of collapse.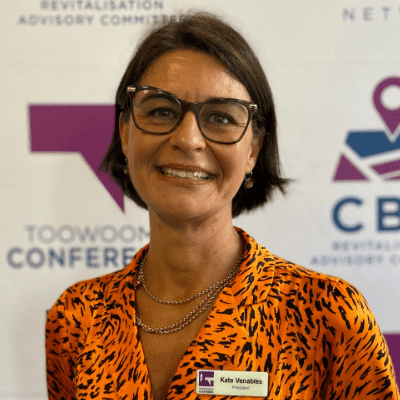 A very well-regarded member of the broader community, built on a reputation of her ability to create and sustain productive workplaces, foster committed relationships, and maintain a strong social justice lens.
Ms. Venables has a strong and extensive track record of working with the business community, and Toowoomba Chamber in the business connect and future leaders advisory group programs. Kate takes over from the measured and charismatic Harrison Humphries who led the Toowoomba Chamber through the difficult times and devasting impacts on our business community brought on by a global pandemic.
New President's vision
Incoming President, Kate Venables said, "I look forward to working with the newly elected Board, Toowoomba Chamber staff and our brave and resilient business community to build on the amazing work of the former Board.
"It is a great opportunity to work and collaborate with the Toowoomba business community to deliver on the Toowoomba Chamber core values of advocacy, connection and education.
"I look forward to continue to drive solutions to the city's skills shortfall and Toowoomba's housing crisis..
I wish Harrison all the very best as he enters the next part of his life journey, particularly on a personal level as their family expands to four.
Vice Presidents:
Chris Black: Chair of Momentum Mental Health , Sam Wright: Ambrosiussen Accountants
Treasurer:
Myf Rigby: Accession3 Business Accountants and Financial Advisers

Board Members:
Rouz Fard: University of Southern Queensland, Jenni Butler: TAFE QLD South-West, Gordon Grover: Specialised Property Consulting, Matt Gregg: Lifeline Darling Downs and Southwest, Naomi Wilson: Focus HR, and Jenny Rix: Bonjour Toowoomba.