Foodie Masterclass Brings Together Community, Local Produce and Businesses.
Seasoned foodies, newly-keen cooks, and pastaholics won't want to miss the fun on Sunday, May 29,at Kingfishers Cafe & Restaurant. Nestled in the restaurant's glorious gardens, foodies will spend the afternoon hand-making their own pasta and learning industry secrets from Downs Hospitality Training Chef, Stephen Simon. Stephen has been one of Toowoomba's longest-serving chefs and now trains many of our local hospitality legends. His approachable teaching style makes these workshops engaging and fun for everyone.
Kat from Foodie Shots has been coordinating the Learn to Make Pasta workshops and lunches over the last four years.
"I love bringing the community and businesses together and showcasing some of our amazing local produce. When we share this experience we are forming new foodie memories which are priceless. This year we are in for a treat as we will be taught how to make cauliflower gnocchi, which is different."
As much as she has loved coordinating the team of local businesses that make the workshops such a great experience, Kat has announced this will be the last of Foodie Shots'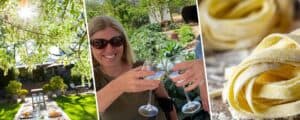 Learn to Make Pasta events.
'All good things come to an end and this is a natural evolution for Foodie Shots. Originally, I saw a need for people to have more foodie experiences, especially after the Cooking School, Sauce, closed its doors. Now we have a thriving food culture with many boutique experiences popping up. I can now focus on other exciting projects I have in the works.'
Local foodie and past participant, Kristie Andrews commented., "This was more than a class – it was an experience. I met wonderful people, learnt how to make pasta, gnocchi and pesto, got to eat the most delicious food, drank great wine and left with my own pasta to cook for dinner. Kat was a fabulous host and I would recommend this to anyone who is looking for a great day out combined with learning a new skill."
The Last Learn to Make Pasta Workshop and Lunch will be held at Kingfishers Cafe & Restaurant on Sunday, May 29 from 10am – 2pm.
For tickets and more information, head over to www.foodieshots.com.au and check out the Workshops, or contact Kat Lynn on 0404455936.