Thanks to the Chamber team for gearing up for another great year of Business Excellence Awards in 2022. But in all seriousness, the BEAs are the chance to share with the world, or at least Toowoomba, where our story has brought us these past 12 months.
We love the theme of 'shining the spotlight' that the Chamber has adopted this year.
We don't do that often enough do we … shine the spotlight on what is great, on what should be celebrated, on what we've achieved. We can so easily get caught up in the daily grind of getting-shit-done in business. We jump one hurdle, then brace ourselves for the next; reach one goal and look to the next horizon; rarely stopping to shine that spotlight on what we've achieved.
For me, that is what the Business Excellence Awards are about. Applying for the Awards is like creating your own highlights reel, a 2022 movie trailer if you like – and your business is the star. It is piecing together the best snippets of the 'days of our lives' that running a business can feel like. Collating the montage of those glorious triumphs and exploits you've experienced; splicing that with the power of connections with others which makes it all so much more meaningful; creating the tension as you identify the real struggles and adversities we've all faced these past 12 months, then playing the perfect, soaring sound track as you realise just how awesome it is that you've overcome this to become an exceptional business.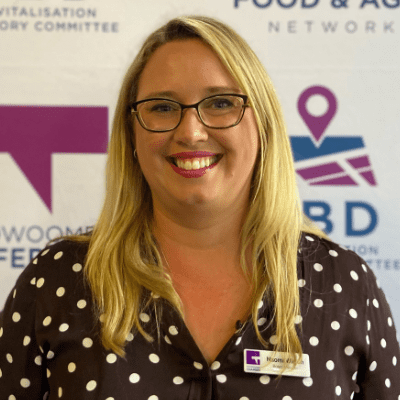 BEA 2022 | I could play on this theme all-day
And the proud history of winners of the Chamber Business Excellence Awards shows us that there are so many stories worth sharing. We are proud to be a small part of that history.
My key message that I'd like to hear echoed after tonight is this … achieving excellence isn't easy. I know I am talking to the converted in this room. As fellow sponsors and previous winners of the BEAs, you know what it takes to be committed to excellence.
Achieving excellence isn't easy. Achieving excellence often means having conviction about the path you are on and sticking to it, even if the going gets tough. Achieving excellence often means putting in the hard yards because you know that the end result will be worth it. Achieving excellence often means going just that one step further than anyone else is willing to and pushing yourself just that bit harder because you know you've got it in you.
In fact, let me share a little of our story …
In 2019, 3 1/2 short years ago, Alistair and I were in Sydney and a respected business coach told us the hard truth that the business that we loved was, in fact, not quite as awesome as we thought it was. Focus HR had a team of 11; low profit margin; had Directors paying themselves below market salaries in order to reinvest profits into the business; and were facing the cultural niggles of a company experiencing rapid growth. We had to swallow that feedback and decide what to do.
Fast-forward 3 years and the team is generating 30% more productivity with half the head count; a profit margin that keeps us healthy; reasonably-paid Directors (depending who you ask); and a culture that we love coming to work in every day.
Taking the next step, this year we implemented the 4 Day Week – achieving 100% productivity, in 80% of the time, with 100% pay. It's not about compacting 38 hours into four days. It is about being truly efficient so that things are done better, faster, and with unfailing quality. The fifth day is essentially a 'gift day' – a way for the team to share the spoils.
During that time, we are proud to have a NPS of >90% since 2020 (compared to Consulting Services benchmark in Australia of 18.2%).
Now with a clear sense of purpose, our team strives to always 'have a positive impact' in every workplace they touch.
Has it been easy? Absolutely not! Have we made a bunch of mistakes on the way – absolutely (we call them 'learnings'). I don't tell you this to big note. I tell you this as a story of a small team of ordinary Toowoomba people, who challenged ourselves, believed we could do it, and just kept going that one step further.
And so when we talk about applying for Business Excellence Awards, I am going to say – it isn't easy. And nor should it be. Anything worth winning is worth putting in the effort for. We only shine the spotlight on the trophies that we truly value – those are the ones that are put on the wall with pride.
And so, I ask each of you to help share this message: The Toowoomba Chamber of Commerce BEAs are worth shining a spotlight on. And because of that, it is worth the effort that it takes to prove your business worthy of winning. The quality of our recent winners – the likes of NRG, Tilly's, Power Tynan, and our hosts, Rowes – should be an indication of the alumni that a business joins when they get to proudly display a winning trophy