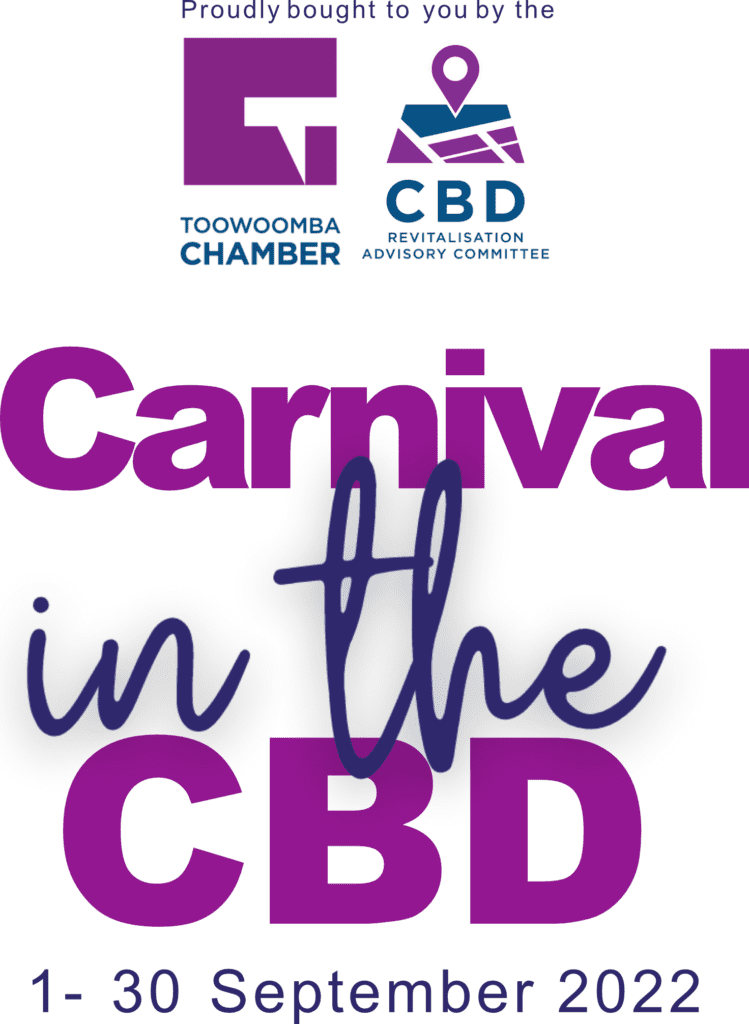 We invite you to participate in this year's Carnival in the CBD, initiated by the Toowoomba Chamber and the CBD Revitalisation Advisory Committee (CBD-RAC)!
This event is about involving our CBD businesses in the Carnival, by dressing up your shopfront in a way that celebrates this great
Toowoomba tradition; whether that be with flowers, artwork, or your own interpretation of the Carnival.
CBD businesses have the opportunity to win the Judge's Award and/or the People's Choice Award and this year there are some fantastic
prizes up for grabs:
There are no guidelines to taking part in this initiative, however, we do encourage you to use local suppliers wherever possible. A map
highlighting participating businesses will be available on Chamber's digital channels on the 31st August 2022.
To register as a participant for this event, please complete the form below.
You'll then receive a participation sticker ready for you to decorate your shopfront in time for Carnival to start on 1st September 2022.
Thank you for taking part in this fun, celebratory competition, and we look forward to seeing our CBD full of colour!

A spread in Style Magazine
A spread in the Toowoomba Chamber Business Journal
A 3-minute promotion video from Little Pig Consulting
An interview for the winning business with Lee (In the week they win) as well as a Roadie visit / Social Post by SCA.
$50 gift voucher to spend at Copper Bench
PLEASE NOTE
This event is being run by the Toowoomba Chamber of Commerce and the CBD Revitalisation Advisory Committee. A judging date will be announced shortly. The People's Choice Award will be determined through voting at the Toowoomba Chamber website, or via a poll on our Facebook Page, over the Carnival period.
All businesses within the CBD are encouraged to enter. The Toowoomba City Central Business Map is available on the Toowoomba Regional Council Website.
All businesses participating, will need to register with the Chamber by Tuesday, 30th August 2022 to ensure they are listed on the map, which will be available on our digital channels.