Our Future Leader's Advisory Group has hit the ground running this year and has a huge 2022 planned.
This week our CEO, Todd Rohl is taking a break from the Chamber update and has handed the reigns over to one of our Future Leader Advisory Group members, Shelley Burchett.
With the update this week, I wanted to change the pace a little bit and give you an update exclusively on the Future Leaders Initiative including the CatholicCare Mentor Program, Power Tynan Professional Development Service and our upcoming event, Conversation Starter – Mental Health in Our Young Workforce (supported by TradeMutt, NRG Services and JRS Manufacturing).
2022 is in full swing, with us today welcoming the first day of Autumn, however, don't let the changing weather discourage you from getting out and about in our region with plenty on.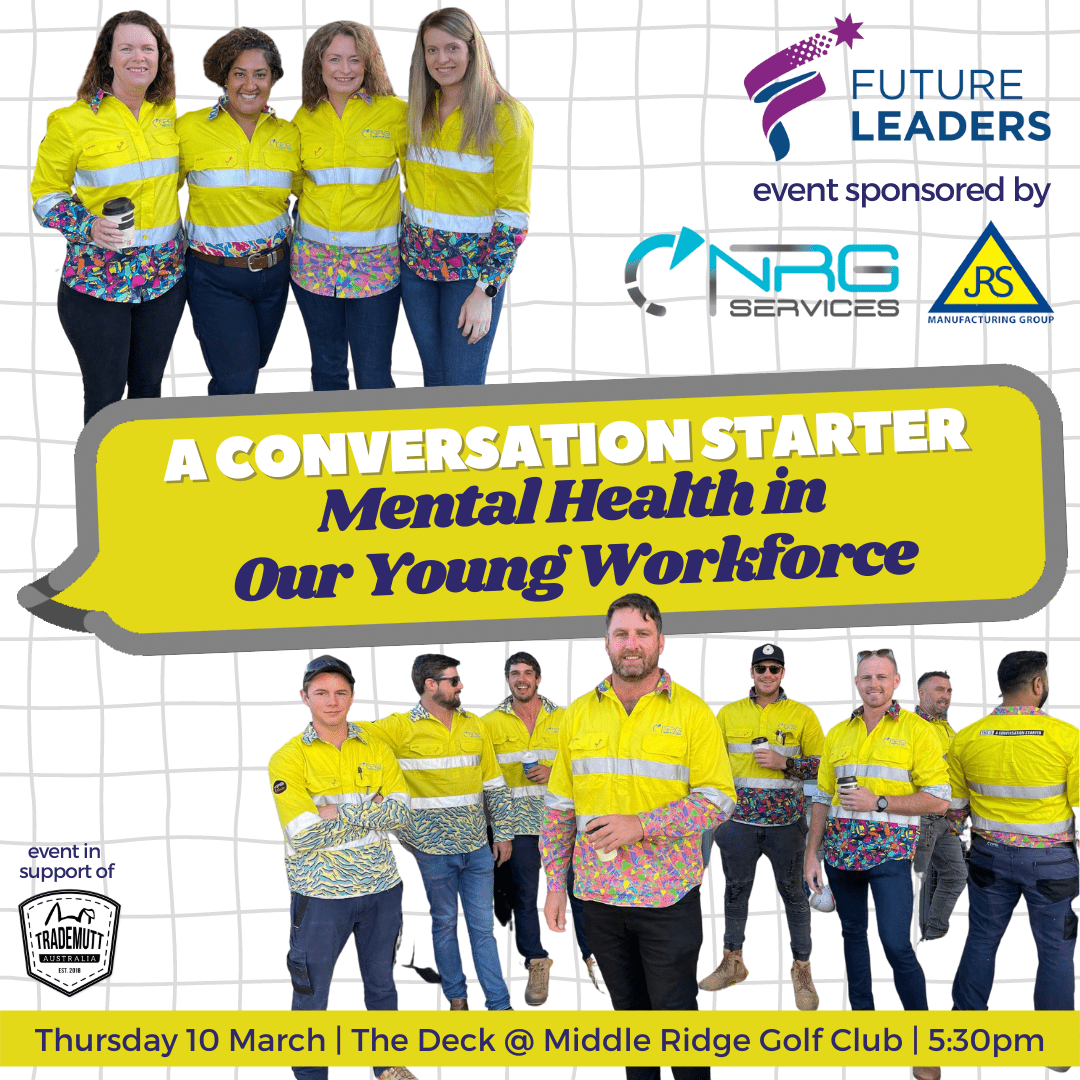 New portfolio lead for Future Leader Advisory Group
Our Future Leader's Advisory Group have hit the ground running this year and have a huge 2022 planned. We recently welcomed our new portfolio lead, Rouz Fard to the FLAG team and wish our previous fearless leader, Chris Black well in his future endeavours.
The 2021/22 CatholicCare Future Leaders Mentor Program is still in full swing with our recent midway feedback survey indicating that our mentees love being connected to like-minded individuals, the guidance from their mentors and the practicality of the workshops.
Based on this feedback, we have developed a range of professional development workshops that we encourage people who missed out on the Mentor program to register for. Our third workshop is being held today, however tickets to our fourth workshop, the Power Tynan Professional Development Services – People Management coming up on Tuesday, 7 June 2022, are currently available, however, you will need to get in quick due to the popularity of this series, places are limited.
International Women's Day is on the 8th of March
With this year's campaign #BreakTheBias. Whether deliberate or unconscious, bias makes it difficult for women to move ahead. Knowing that bias exists isn't enough, action is needed to level the playing field.
Strike the IWD 2022 pose and share your #BreakTheBias image, video, resources, presentation, or articles on social media using #IWD2022 #BreakTheBias to encourage further people to commit to helping forge an inclusive world.
There are also a range of International Women's Day events around our region or online, so head to the International Women's Day website for further information and get involved where you can.
And lastly, our March event is fast approaching – Conversation Starter – Mental Health in Our Young Workforce. This one is close to my own heart, having struggled with my own mental health and learning to have these tough conversations with my family, friends, and work colleagues in the past (and present).
The event is a Q&A-style event designed to help break the stigma of mental health in the workplace. We have managed to secure the TradeMutt boys (Ed and Dan) as our guest speakers, with them sharing their stories and answering any questions you want to throw at them. Thank you also to our sponsors NRG Services and JRS Manufacturing who quickly answered the call to support this event. The event will be held on Thursday, 10 March 2022 from 5:30 pm at the Middle Ridge Golf Club, tickets are available, head to our socials for more details.
Take care of yourselves, and each other.
Shelley Burchett, Future Leaders Advisory Group, Toowoomba Chamber